After four long years, Hangad Music Ministry's milestone concert "One Thing I Ask" finally made its way to the virtual stage, treating audiences to a delightful evening of music and memories last Friday, September 25.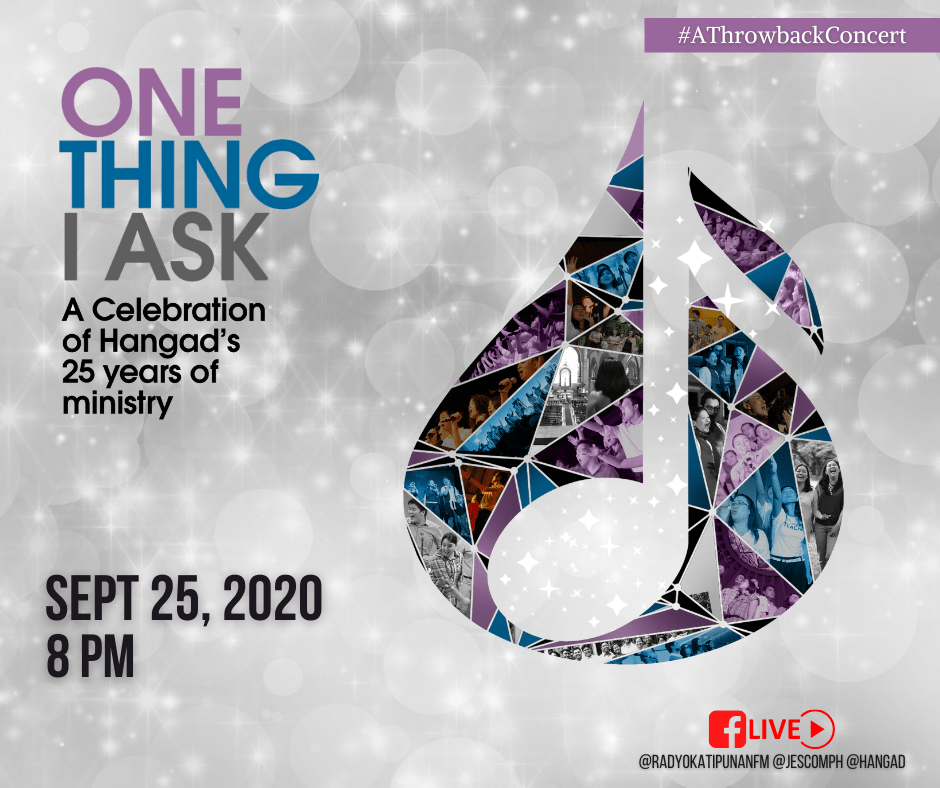 Streamed live via the Radyo Katipunan 87.9 FM Facebook page and broadcasted simultaneously by JesCom and Ateneo de Manila, both recent and longtime members of the vocal ensemble took turns in reminiscing about the grand 25th year anniversary celebration, held back in October 2016.
Welcoming audiences onscreen were baritone Kiko Angeles and sopranos Clare Royandoyan and KC Lawenko, who all recounted their experiences preparing for the musicale as early as December 2015- ensuring a truly special gift for their loyal friends and supporters.
Joining the trio was former tenor Paolo Suapengco, who recalled the generous outpouring of support from over 80 Hanagad members scattered across the globe, all eagerly collaborating with Margie Templo-Parks and Willan Caimol to produce the stellar "One Thing I Ask" music video.

"This just speaks volumes about the bond we have as a family. Even inactive members became involved, despite boundaries of time and distance. What made this special was not just the beauty of the songs, but the unifying of old members," affirmed Suapengco.
"When we're called to support, we always give what we can, to do our calling, to answer our desire to sing for God's greater glory."
Official footage of the concert showed impressive performances from guest artist Jona, ballerina Candice Adea, Trinity Dance Troupe and Seven Archangels Choir, that drew resounding applause from the 2,000-strong crowd inside the Araneta Center's New Frontier Theater.
During the livestream's brief intermission, Seven Archangels members Joshua Vidal and Emem Loyola
expressed their deep gratitude to Hangad, for sincerely acknowledging their contributions and those of other associated acts.
As the concert's second half continued to serenade viewers with classics such as "Pananatili", "Paghahandog" and "So the Love of God", then-Jesuit Music Ministry Director Fr.Ro Atilano, took the opportunity to hand veteran member Monchu Lucero a bouquet of flowers, as a token of appreciation for all that Hangad had accomplished.
Before the curtain closed for the night with concluding numbers of "Ang Puso Ko'y Nagpupuri" and "Pagakakaibigan", Fr.Ro shared his praises and message of thanksgiving.

"Congratulations Hangad for a wonderful, successful concert. We are very proud of you for helping the Jesuits for the past 25 years, bringing people closer to God through your music. Continue to create music. Continue to pray with all of us. Continue to share your gift with all of us."
Following the success of "One Thing I Ask", catch Hangad in their upcoming online concert "At Home with Hangad", as they celebrate their 29th anniversary this October 18.

For more information, follow JesCom on Facebook (facebook.com/jescomph). Listen to the songs of Hangad on Spotify:: https://buff.ly/33NC3Da