Celebrate the feast of St.Ignatius of Loyola, together with the Jesuit Music Ministry (JMM),in its upcoming online concert "Holy Darkness: The Ignatian Spirit in the time of COVID 19" on July 31, Friday 8pm.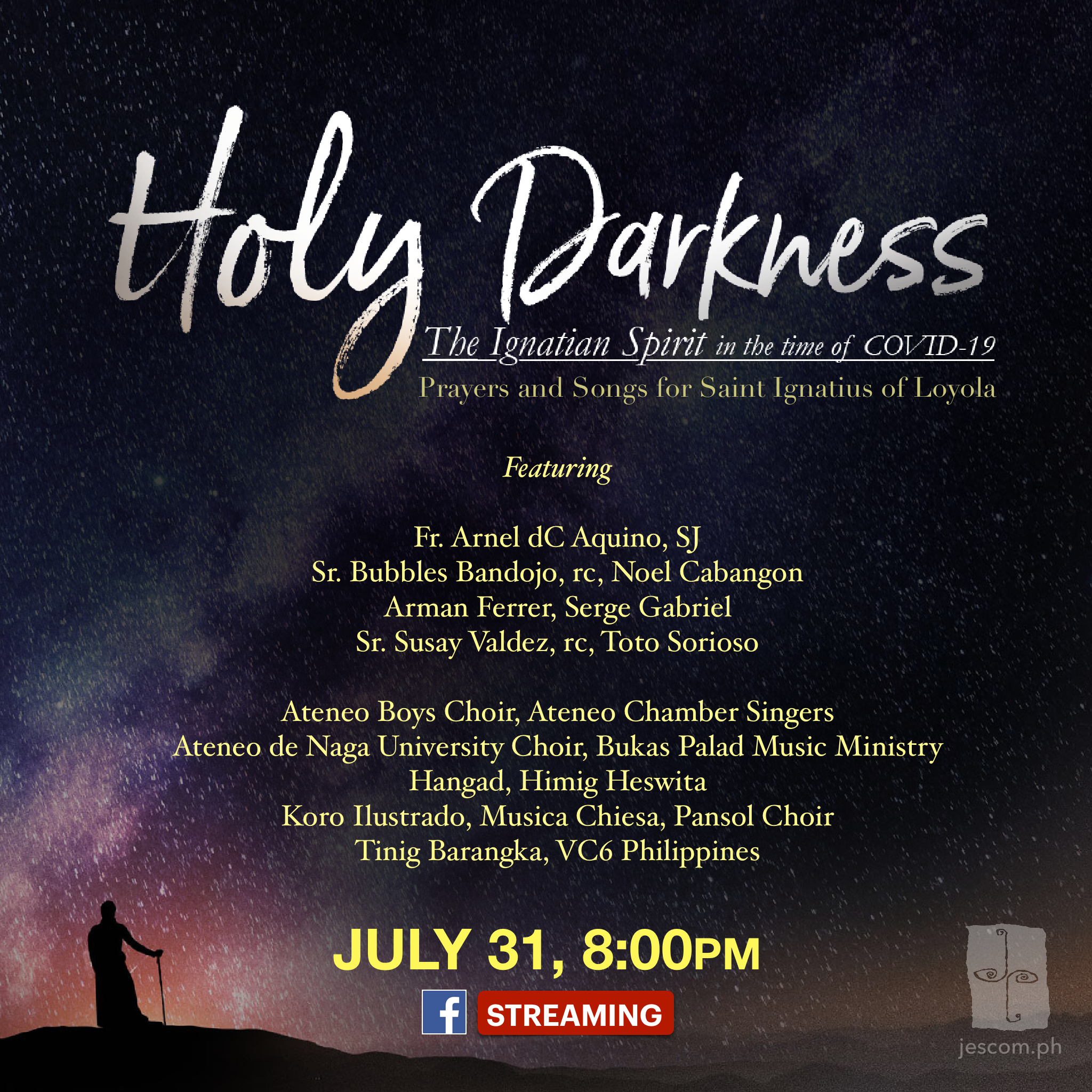 Streaming live via the Jesuit Communications (JesCom), Ateneo de Manila and Radyo Katipunan 87.9 FM Facebook pages, "Holy Darkness" marks the fitting conclusion of "One Foot Raised", the Ateneo 2020 Ignatian Festival, with a grand musical production in honor of the university's patron saint.
Following the success of Bukas Palad Music Ministry's "If I Could Touch You" and the Jesuit Residence's well-received "Mga Awit ng Paghilom" to open the month-long buildup for the Society of Jesus' founder's feast, JMM now presents a three-act concert centring on St.Ignatius' transformative faith journey and how themes of light and darkness reflect our personal experiences in this ongoing struggle with the coronavirus pandemic.
"It is important to recognize how God has been moving in our lives during this time of the pandemic to find those dark moments and be able to find the light in it," explains JMM Director Lester Mendiola.
"Music has been an effective language, a tool to communicate with God, for many of us. There are many songs that speak of our own experience of light and darkness just like how Saint Ignatius of Loyola experienced it."
Bringing to life the different stages of St.Ignatius' spiritual conversion, through the power of song, are the Ateneo Boys Choir, Ateneo Chamber Singers, Ateneo de Naga University Choir, Bukas Palad Music Ministry, Hangad, Himig Heswita, Koro Ilustrado, Musica Chiesa, Pansol Choir, Tinig Barangka, and VC6 Philippines.
Also to be featured are the performances of several JMM artists and friends including Arman Ferrer, Fr. Arnel dC. Aquino, SJ, Sr. Bubbles Bandojo, rc, Noel Cabangon, Sr. Susay Valdez, rc, Toto Sorioso and Serge Gabriel. Meanwhile, Fr. JBoy Gonzales, SJ, Fr. Karel San Juan, SJ and Fr. Fox Rivera, SJ, will be sharing their reflections.
As we relive St.Ignatius' own moments of trial and tribulation,the music and prayers of "Holy Darkness" hope to serve as a comforting reminder to all, of faith's enduring power even in the most difficult of times.
"This will be an evening of music and reflection. We hope that you can pray with us through our songs, that in this time of the pandemic, we will be able to see our own experience of darkness and how God is leading us into the light," invites Mr. Mendiola.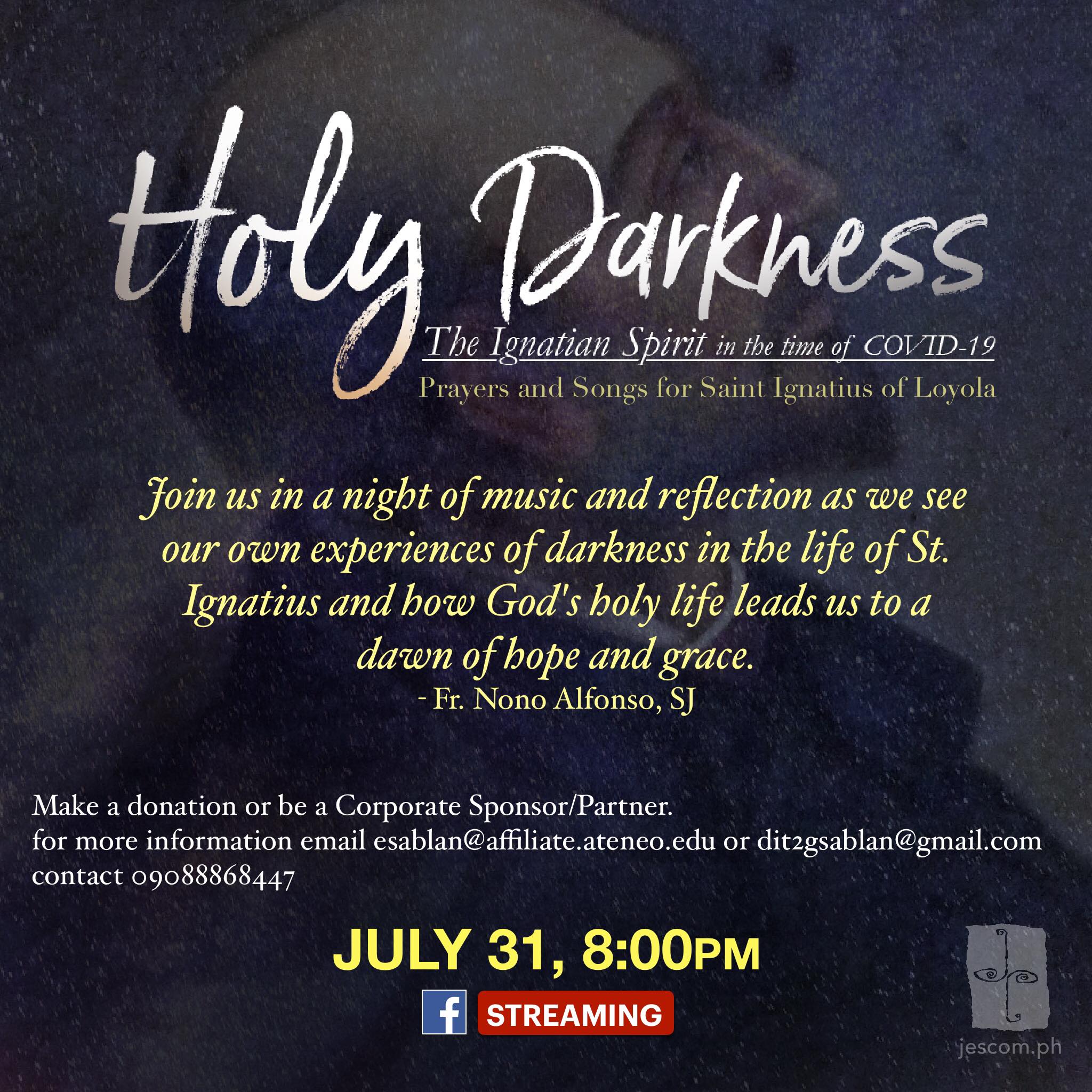 For more information and updates on "Holy Darkness: The Ignatian Spirit in the time of COVID 19", please follow JesCom (@jescomph) and Radyo Katipunan (radyokatipunan) on Facebook. If you wish to help sponsor the online concert, please contact dit2gsablan@gmail.com or call 0908-886-8447.
Proceeds and donations for "Holy Darkness: The Ignatian Spirit in the time of COVID 19", will be for the benefit of JesCom's various ministries and its mission of media evangelization.
Two Ways to Support Our Online Concert