Building upon the generous show of support and success of Keeping the Faith: Daily Mass for Difficult Times, Radyo Katipunan 87.9 FM presents its lineup of services and programs for Holy Week 2020.
Holy Week Services
The official Ateneo de Manila campus radio opens the sacred culmination of the Lenten Season with the live-streaming of Palm Sunday's Holy Eucharist at 8:00 AM, to be presided by acclaimed composer, Fr. Arnel Aquino SJ.
Throughout the Easter Triduum, our dear Jesuit priests Fr. Albert Alejo, SJ (Mass of the Lord's Supper, Holy Thursday, 4:00 PM), Fr. Ro Atilano, SJ (Veneration of the Cross, Good Friday, 3:00 PM), Fr. Jose T. Villarin, SJ (Easter Vigil Mass, Holy Saturday, 8:00 PM) and Fr. Ramon Bautista, SJ (Easter Sunday Mass, 8:00 AM), will continue to lead and unite the faithful in prayer and contemplation on the Ateneo airwaves.
Seven Last Words at Radyo Katipunan
Before Good Friday's Veneration of the Cross, the faithful can meditate on our Lord's Seven Last Words (1:00 PM) in light of Ignatian Spirituality, together with Fr. Rene Javellana SJ, Fr. Albert Alejo SJ, Fr.James Gascon SJ, Fr. Manuel Francisco SJ, Fr. Jose T. Villarin SJ and Fr. Francis Alvarez SJ.
Joining the Jesuits in facilitating Seven Last Words will be His Eminence Luis Antonio Cardinal Tagle, live in a special appearance from his new Vatican post.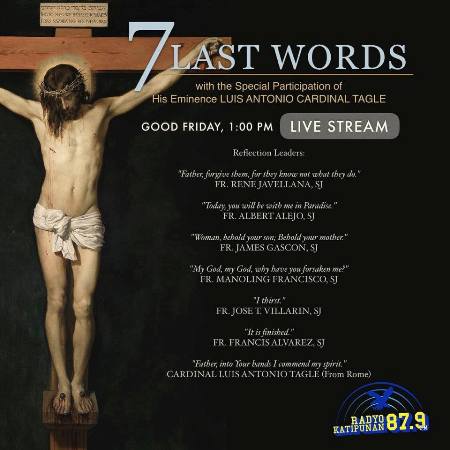 Reflection Leaders
"Father, forgive them, for they know not what they do." – FR. RENE JAVELLANA, SJ
"Today, you will be with me in Paradise." – FR. ALBERT ALEJO, SJ
"Woman, behold thy son; Behold thy mother." – FR. JAMES GASCON, SJ
"My God, my God, why have you forsaken me?" – FR. MANUEL FRANCISCO, SJ
"I thirst." – FR. JOSE T. VILLARIN, SJ
"It is finished." – FR. FRANCIS ALVAREZ, SJ
"Father, into Your hands I commend my spirit." – CARDINAL LUIS ANTONIO TAGLE (From Rome)
Holy Week Retreat: Our Easter Journey Amidst the COVID-19 Pandemic
As we yearn for peace and healing during this challenging period of social distancing and community quarantine, Fr. Victor Baltazar, SJ, former Executive Director of the Center of Ignatian Spirituality, guides our reflections and search for spiritual direction through his online retreat Our Easter Journey amidst the COVID-19 Pandemic.
First Session: Palm Sunday, 5 April 2020, 2:30 PM
Second Session: Holy Thursday, 9 April 2020, 8:00 AM
Third Session: Good Friday, 10 April 2020, 8:00 AM
Fourth Session: Black Saturday, 11 April 2020, 8:00 AM
Final Session: Easter Sunday, 12 April 2020, 8:00 AM